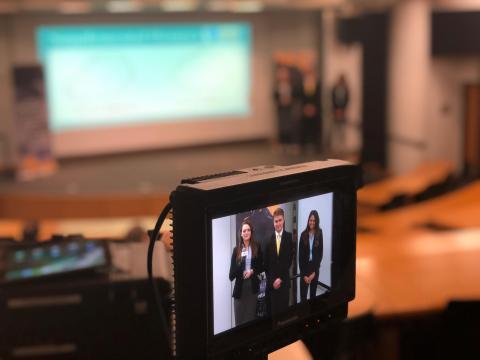 Download image
Feb 06, 2019 — Atlanta, GA
On Tuesday, February 5, the semi-final round of the 2019 InVenture Prize Competition was held in the Georgia Tech Manufacturing Institute. Here the twenty-seven remaining teams of student innovators gathered and presented to a panel of judges their inventions and business concepts.
            The event took place throughout the majority of the day, as teams were called to present during their allotted times. Upon entering, teams were granted three minutes to conduct their idea pitches, and then ten minutes of discussion were held for feedback from the judges. The judge panel was composed of experts in multiple fields of discipline and whose numbers varied from five to eight throughout the day. 
            As opposed to the more clamorous, round-robin-type environment of the preliminary round, teams were able to present their pitches in a more collected and private manner. Teams presented their ideas one at a time, and this allowed for a much more personal experience between the parties. 
            This close dynamic also allowed for increased concentration on the logistics behind each team's invention, and the judges were allowed the opportunity to comment much more in depth on the students' past and future business models. Judges focused more on tangible results and product developments rather than generic concepts like in the preliminary round.
            Discussions between the judges and the contestants was predominantly centered on statistics, monetary value of prototypes, intellectual property plans, and even endeavors for large-scale production and customer outreach. Teams received much input that could be applied to their final pitches for the next round of the competition.
            It should be noted that representatives from the Georgia Public Broadcasting (GPB) channel were again present for this round, and the students' presentations and interactions with the judges were filmed. Students gained their first real taste of the format of presenting both on stage and on camera in preparation for the Finals.
            After this round's decisions have been made, the six remaining teams will receive notification that they will be moving on to the Finals. These competitors will have roughly a month to further prepare themselves before presenting their inventions for the last time.
            The final round of the competition will take place at 7:30 p.m. on Wednesday, March 13 in the Ferst Center for the Arts. Prizes will be awarded for the overall winner, runner-up, and a People's Choice. Tickets to the event are available for free to those both in the Georgia Tech community as well as those outside of it, and the event will be aired live on GPB and streamed online for those who cannot attend.