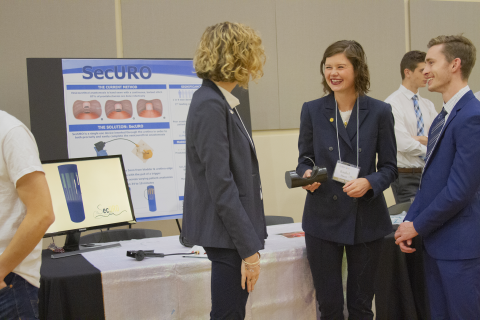 Download image
Jan 24, 2019 — Atlanta, GA
On Jan. 24, the Institute's eleventh annual InVenture Prize competition kicked off its preliminary round of evaluation in the Student Center Ballroom. Over forty teams of students presented judges with their product ideas, business plans, and prototypes. Additionally, each team was briefly interviewed by media representatives from the Georgia Public Broadcasting network (GPB), and students were able to obtain their first taste of this year's competitive environment.
            Teams were composed of students ranging from first-years to those who had graduated within the last year. Although such an age gap existed among some of the competitors, the quality of the students' inventions and business endeavors showed no evidence of this.
            This year's notable inventions included those of data collection websites, educational apps, medical devices, and even those made for daily use by the average consumer. Each team was prepared with their respective "quick pitches" and explanations, and judges undoubtedly had difficulty in narrowing the contestant pool down to the twenty-seven teams to move on to the next round of the competition.
            This year, teams will be competing for a first-place prize of $20,000 and immediate acceptance into Create-X's Startup Launch, a state-of-the-art program for creating profitable business plans for student innovators. The runner-up will receive $10,000, and a People's Choice prize of $5,000 will be granted to the team with the most online and text votes received. Monetary prizes will be equally distributed among team members.
            The first- and second-place teams will be granted a free patent filing from the Institute's Office of Technology Licensing, which is valued at approximately $20,000. It should also be noted that all teams participating in the final round of the InVenture Prize will be guaranteed to have an interview for acceptance into the Create-X Startup Launch program despite any placing outcomes. 
            Previous years' competitions brought students national acknowledgement, airtime on shows like ABC's Shark Tank, and even the chance to see former President Barack Obama trying out an invention for himself.
            Described by students as "highly competitive, innovative, and currently guiding the future", the 2019 Georgia Tech InVenture Prize is one worth keeping up with — teams that surpassed the first round of evaluations have already paved the way for their future success, and the competition only gets more difficult from here.
            The next round of evaluation will be conducted on Tuesday, Feb. 5. Here students will again be scored on their inventions and business plans but this time on stage and before a panel of judges. Teams will be allowed three minutes to give their pitches, and then ten minutes of discussion will be held. 
            During this round, six distinguished teams will be chosen to move on to the final round of the competition, which will take place on Wednesday, Mar. 13 at 7:30pm in the Ferst Center for the Arts. The event will be televised live on GPB, and tickets to attend the event will be available this month.