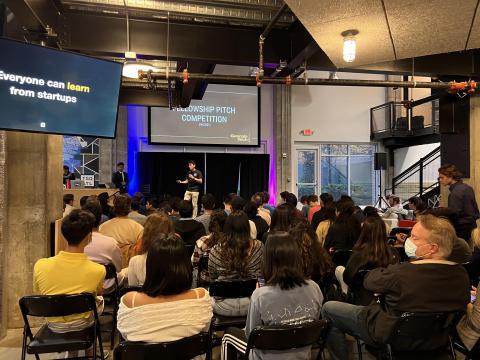 Download image
Dec 10, 2021 — Atlanta, GA
By Frida Carrera
On December 3, 2021, Startup Exchange presented the Fall 2021 Fellowship Pitch Competition sponsored by the Georgia Tech Student Innovation Program, Office of Undergraduate Education. The event took place at ATL Social Club in Tech Square, a major startup hub situated on Georgia Tech's campus and perfect for those eager for innovation at GT. The event also welcomed partner companies and recruiters such as NCR and Stord. 
At this pitch-style event, six founder teams presented their innovative pitches and competed for first, second, and third place, each with a cash prize to aid in the advancement of their ideas. The first and second place winners of the competition were determined by three guest judges: Kathryn Petralia, co-founder of Kabbage and Drum; Thomas Suarez, co-founder of Teleport and Thiel Fellow; and Evan Jarecki, serial entrepreneur and BM at Startup Atlanta. The event commenced with a brief introduction by Startup Exchange executive board members, followed by presentations from the 6 teams including Fino, InSite, Jargon, and Tokenstack. After hearing each team's pitch, the judges had time to deliberate and select the top two winners while the audience voted for the People's Choice winner. Meanwhile, attendees were also able to hear from the partner companies and network while enjoying free perks such as food and beverages. 
"There are students everywhere across campus really starting on their start-ups and pursuing their dreams. Atlanta is a growing city and Georgia Tech is the perfect hub for that. These teams, we're introducing them to entrepreneurship and giving those resources and intro-connections. By doing so, we're inspiring them in a way. It's just a great learning experience for them," explained Startup Exchange's Director of Fellowship Revanth Tiruveedhi.
Following the intermission, the judges presented the first-place award of $750 to Jargon, a browser extension that points out red flags in user contract agreements, as pitched by team members Kaleb Rasmussen and Devansh Khunteta. Second place of $500 was awarded to Eartheal by team members Colin Burnett, Philip Colt, Neal Austensen, and Brandon Sherrard. People's Choice of $250 was awarded to Tokenstack by team members Nitin Paul, Samrat Sahoo, Yatharth Bhargava, and Mohit Sahoo. The event then closed with remarks by Startup Exchange's board members and photos with the participants.
To learn more about student innovation at Georgia Tech visit https://innovation.gatech.edu/