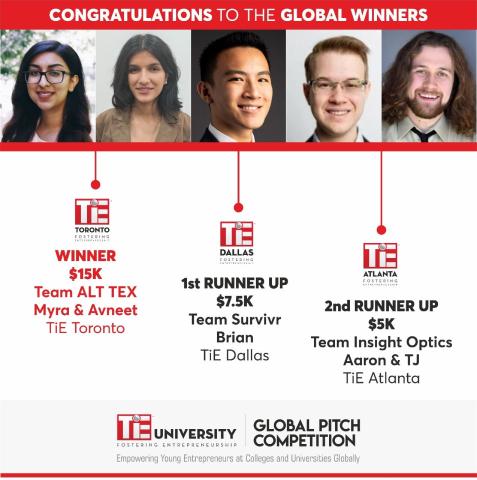 Download image
May 19, 2021 — Atlanta, GA
Georgia Tech's Insight Optics won third place at the third annual TiE University Global Pitch Competition held May 15 – 16. 
Representing TiE Atlanta, the Insight Optics team consists of Tech students Aaron Enten and TJ Lagrow. Their business venture delivers a mobile-adapted platform that enables primary care physicians to efficiently detect early signs of avoidable blindness before permanent damage is done. They were mentored by Greg Cory, Neeti Dewan, and Eric Ensor from TiE Atlanta.
The team received a $5,000 cash prize sponsored by the Naadam Foundation and a $4,000 grant from the REAN Foundation. Insight Optics was also "Best In Class" at the startup boot camp hosted by TiE (The IndUS Entrepreneurs) in Silicon Valley in early May.
Insight Optics competed with 27 winning teams from across the globe including teams from TiE chapters in seven countries and three continents. The teams were mentored by local TiE chapters and supported by global workshops, startup boot camps, and mock sessions.
First prize went to TiE Toronto's ALT TEX, whose founders are from York University and the University of Toronto. Their venture focuses on sustainable textiles engineered from food products, tackling two important issues — food waste and pollution caused by textile production. 
The second prize winner was TiE Dallas' SURVIVR, whose founder is from the University of Texas at Dallas. The company aims to make communities safer by providing immersive police training using virtual reality. 
Chapter winners went through a semifinal round on May 15. The virtual event was viewed by more than 500 audience members from around the world, and TiE Atlanta's executive director, Amyn Sadruddin, hosted a semifinals track. Teams pitched business ideas such as bio-toilets, career fulfillment tools for higher education, technology-enabled artificial limbs, and tech kits for 21st-century education, among others.

The event also featured a fireside conversation between Jagdish Sheth, professor of business at Emory University, and Mumbai-based entrepreneur Ronnie Screwvala. The co-founder and chairman of Upgrad, an online edtech startup, Screwvala inspired young entrepreneurs to take risks. 
"This year, TiE University extended the concept of entrepreneurship to form a stronger ecosystem, even more strategically focused to dovetail multiple enablers," said Paul Lopez, founder and co-chair of the TiE University Program. "Thanks to the generosity of sponsors, this year's total cash prizes were $65,000, plus in-kind awards of over $600,000 to empower college entrepreneurs."
Eight university teams made it to the finals of the global pitch fest. In addition to the top three winning teams, the other finalists were TiE Austin's Clocr, a digital legacy management and emergency planning platform; TiE Chennai's Kitab, a digital PDF reader that redefines the way technical literature and textbooks are consumed; TiE Dubai's Small World that connects NGOs and high school students; TiE D.C.'s Early Intervention Systems that builds software and algorithms to enhance eldercare; and TiE New Jersey's Sulis, a low-cost water sanitization device.
The keynote speaker was Sheel Tyle, founder and CEO of venture capital global firm Amplo. Interviewed by TiE Coimbatore's Pradeep Yuvaraj, Tyle had some advice for entrepreneurs: "Whether you spend time doing something small or doing something big, it actually takes the same time. If you're going to spend your precious time on something, do it where your time has the greatest impact on the world."