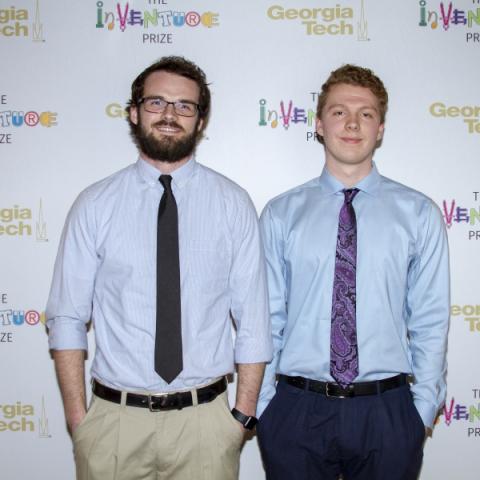 Download image
Nov 19, 2019 — Georgia Institute of Technology
By Jessica Barber
A two-man team, Jacob Parker and Austin Condict amazed audiences at the 2019 InVenture Prize Finals. The mechanical engineering and computer science duo quickly advanced through the competition with their unique, finger-controlled quadcopter drones. 
The initial prototype, constructed wholly on the Georgia Tech campus, featured a small finger port structure that allows users to dock and launch the drone with the movement of their fingers.
Since demonstrating their product in the competition, Finger Flyer has continued to gain momentum in the development of their new generation of recreational flying devices.
Product Updates
The team is now focused on making the drone more accessible and user friendly for consumers. 
Users now have more personalization options, as the drones now have enhanced hand controls, manual trick capabilities, and personal preference settings that include interchangeable finger-port boards.
Finger Flyer was a standout at the 2019 InVenture Prize, and although it was aimed at providing a modernized drone system for today's youth, audience members of all ages were intrigued by the fact that the drones do not require a radio controller. 
"With the wave of the hand it can be passed or set to perform preprogrammed tricks," Parker stated. This novel feature makes the device fun and easy to use regardless of consumers' technological background.
Future Production
The team is currently working with production companies based in Guangdong, China. With the help of the InVenture Prize, they are working toward releasing Finger Flyer on a large scale. 
According to the team, one of their main goals was to create a user-friendly and affordable drone for consumers across the world. Soon it will be available for around $50. In the meantime, the team is locking in their ideas on the legal side of things.
"The [Patent Cooperation Treaty] claims have been deemed novel, non-obvious, with utility, and the U.S. patent is going under examination within the month," Parker said. The team looks forward to expanding their user base and continuing to inspire the next generation of college students.
EXPLORE THE FINGER FLYER HERE.
FIND OUT MORE ABOUT THE 2020 INVENTURE PRIZE BY CLICKING HERE. Registration ends Jan. 13.